Introduction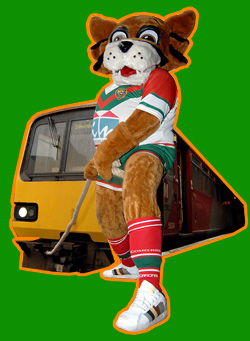 Freddie Cougar is winning his own "Battle of the Bulge'.
As he approaches the end of his six week "Freddie gets Fit" campaign fans can see the change in his physique. Freddie was given six weeks to get himself in shape by Cougars head coach Barry Eaton and he has been shedding the kilos thanks to a healthy eating diet and a fitness programme devised for him by Eaton.
As part of his fitness regime Freddie's been undertaking a series of challenges having pulled the club's Sunwin-sponsored Nissan Qashqai and a Joda Freight wagon. This week we really put Freddie to the test by asking him to pull a train! Thanks to cup sponsors Northern Rail, Freddie was able to test himself against the weight of a commuter train. He turned up at Huddersfield Station, where Northern had a train between journeys to Sheffield.
The super Cougar hitched up a rope to the front of the train and after a mighty effort he had it rolling a few inches. "That was the biggest weight I've had to pull so far," said Freddie. "But there's no way I could have thought about doing something like pulling a train a few weeks ago. It just shows how important it is to eat the right things and take regular exercise" Barry Eaton said: "I'm proud of Freddie. He was stunned when I told him he had to loose weight and get in shape. "But Rugby League is an athletic sport and we couldn't have a mascot who had put on so much weight and couldn't climb to the top of the Cougar Park main stand! "Now we'll just have to wait until he has his final fitness test to see whether he can stay as our chief Cougar for 2009".
Freddie's campaign has been done in conjunction with the media partners Keighley News and you can keep up to date with his progress by clicking on to the keighleynews.co.uk or Freddie's own web site freddiegetsfit.co.uk. l Remember that Freddie is a super Cougar so he can do things that normal people can't even think about. So please do not try copying Freddie without supervision or gaining permission.
So you'll need to watch out for Freddie's column in the Keighley News to find out when you can meet the Cougars mascot in person.